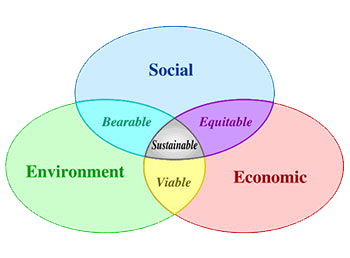 What is Sustainability and Sustainable Development?
It's been often stated that, "Sustainable urban development is one of the most pressing challenges facing the human community in the 21st century." The United Nations Brundtland Commission's definition of sustainability is "meeting the needs of the present without compromising the ability of future generations to meet their own needs".
Sustainable Development, is an organizing principle for human life on a finite planet where human societies live in a way that conditions and resource-use meet human needs without undermining the sustainability of natural systems and the environment, so that future generations may also meet their needs.
In practice, sustainability balances concerns for social equity, ecological health, and economic vitality to create a livable community for today while ensuring a healthy and fulfilling legacy for our children's children.
Sustainable San Antonio was initially developed as a course project in collaboration with student contributors in the Web Design and Development Program at the International Academy of Design and Technology – San Antonio and continues with additional interested parties to explain and demonstrate:
What is sustainability?
Why does it matter?
Why is it important or should we care?
Sustainable San Antonio is:
Focused on the long-term health and sustainability of the San Antonio Metro Area and global community.
Working to provide a platform to be used as a catalyst and resource for positive change.
Developing sets of community-based indicators, measuring and making progress towards sustainability.
Collaborating with individuals, businesses, governments, academia and organizations dedicated to environmental stewardship and socio-economic proficiencies in order to advocate and champion a sustainable brand of lifestyle to opinion leaders throughout these sectors.
Providing indicator reports to reach thousands of people and spark the formation of other community groups locally and throughout the world.
Creating programs that use environmental action and education as a launching point for citizen engagement with the end goal of an overall healthier, more prosperous and vibrant community for all.
Becoming a community resource for sustainable development technologies and practices throughout the San Antonio Metro Area & beyond.
The Vision of Sustainable San Antonio is:
To live, work, and play in the greater San Antonio Metro Area while sustaining vital local economies and livable, socially just communities.
To always strive to have healthy ecosystems and be responsible stewards of our resources.
To bring innovators, change agents and transformers together in making San Antonio into a model for other communities around the world and being a catalyst and leader for positive action.
The Mission of Sustainable San Antonio is:
To facilitate individuals, organizations and businesses to build an immediately supportable future through innovation, education and on-the-ground projects which prove sustainable development to be a more profitable form of development.