Electric Cars
One method of personal transpiration that is sustainable is an electric car, (also known as an electric vehicle or an EV). An electric car is powered by an electric motor instead of a gasoline engine. They draw power from rechargeable batteries. Some EVs can travel approximately 100 miles per charge. EVs, also offer numerous environmental and economic benefits. They are energy efficient, environmentally friendly, offer solid performance while helping to reduce our dependency on foreign energy as electricity is produced locally. There are, however, some drawbacks to EVs they offer limited driving ranges and require a battery recharge of 4-8 hours. They also have a high battery cost and the batteries take up considerable vehicle space. (http://stateimpact.npr.org). Perhaps EVs are the future in sustainable personal transportation but their cost keeping sales from taking off.(http://www.mysanantonio.com).
Evs did create much excitement at a San Antonio auto show.

If you do support EVs or want to learn more you can visit Alamo City Electric Auto Association,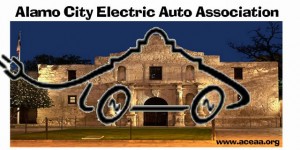 the San Antonio Chapter of Electric Auto Association, a national non-profit organization of enthusiasts who enjoy building, driving, and promoting Electric Vehicles (EV's) as a viable form of transportation.