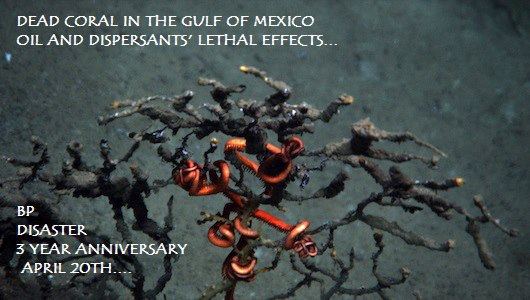 Hundreds of beached dolphin carcasses, shrimp with no eyes, contaminated fish, ancient corals caked in oil and some seriously unwell people are among the legacies that scientists are still uncovering in the wake of BP's Deepwater Horizon spill.This week it will be three years since the first of 4.9 million barrels of crude oil gushed into the Gulf of Mexico, in what is now considered the largest marine oil spill in the history of the petroleum industry. As the scale of the ecological disaster unfolds, BP is appearing daily in a New Orleans federal court to battle over the extent of compensation it owes to the region.Infant dolphins were found dead at six times average rates in January and February of 2013. More than 650 dolphins have been found beached in the oil spill area since the disaster began, which is more than four times the historical average. Sea turtles were also affected, with more than 1,700 found stranded between May 2010 and November 2012 – the last date for which information is available. On average, the number stranded annually in the region is 240.
Tell the Dept. of Justice to hold BP fully accountable for its actions>>
read more via Dead dolphins and shrimp with no eyes found after BP clean-up – Nature – Environment – The Independent.