Personal transpiration is becoming more sustainable with the advent of the electric car, (also known as an electric vehicle or an EV). An EV is powered by an electric motor instead of a gasoline engine drawing power from rechargeable batteries.
Some EVs can travel can travel over 200 miles per charge and the range is growing. EVs, also offer numerous environmental and economic benefits by having lower operating and maintenance costs, are energy efficient, environmentally friendly and offer solid performance while helping to reduce our dependency on foreign energy as electricity is produced locally.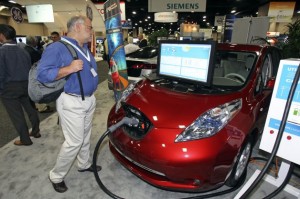 Historically there have been some drawbacks to EVs due to their limited driving ranges and require a full battery recharge time of 4-8 hours. However, as of June 2011, there were less than three dozen electric vehicles in Austin, Texas. According to Austin Energy, there are likely to be 200,000 plug-in electric vehicles in Central Texas by the end of this decade.
EVs are the future in sustainable personal transportation, and while their cost have kept sales from taking off, this is rapidly change and often create much excitement at a San Antonio auto shows.
Crowdfunding push for EZ-EV open source electric kit car – Electrical engineer Gary Krysztopik has been driving his self-built, open-framed, three-wheeled electric "hotrod" on the roads and highways of San Antonio (TX) for over three years now, but folks still can't help staring as he zooms past. While also working on gas-to-electric conversions (including a VW Bug and a Porsche Carrera), he's been busy refining and tweaking the design for his "battery box on wheels" and is now preparing to release the EZ-EV car as open source plans, build-it-yourself kits and complete vehicles. read more
If you support EVs or want to learn more you can visit Alamo City Electric Auto Association, the San Antonio Chapter of Electric Auto Association, a national non-profit organization of enthusiasts who enjoy building, driving, and promoting EV's as a viable form of transportation.