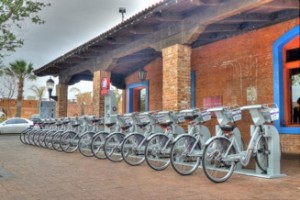 The City of San Antonio Transportation Plan, also referred to as a Multimodal Transportation Plan, will set and communicate the City's transportation strategy and provide a method for prioritizing projects through 2040. It is a plan for all modes of transportation, including cars, transit, bicycles, and pedestrians and will develop proposed multimodal improvements and serve as a tool to analyze transportation priorities to best meet community goals.
San Antonio is developing programs to provide sustainable public transportation. One such program is a bike sharing program provided by San Antonio Bike Share, a non-profit corporation. Bike sharing offers individual the opportunity to pick up a bike at any of the Bike Share kiosks located downtown and drop it off when they are done. This bike share program helps promote better health and quality of life in those who participate in the program. This simple program simple and affordable program provides a clean mode of transportation downtown that also preserve the environment of San Antonio (San Antonio Bike Share).
The blog, Bicycle Trax, has an interesting post about cycling the San Antonio Mission Trail.
Cycling San Antonio also offers a Bike Share program through Bike World at Pearl Brewery. That also offers information such as where and what types of bike to buy. In addition to offering beginning riders free bike classes to help them get started and provided them with information on where they can safely ride, and how they can join a bike clubs. (Cycling San Antonio).

Rail System
Passenger rail systems like the Trinity Railway Express connecting Dallas and Fort Worth and the New Mexico Rail Runner Express connecting Albuquerque and Santa Fe offer sustainable public transportation to the areas they support and in San Antonio a Lone Star Rail District has been proposed by the Greater Austin-San Antonio Corridor Council. The Lone Star Rail District would provide a commuter rail between Georgetown and San Antonio. The rail would increase employment opportunities; expand tourism, sports, attractions and special event markets; and also improve the quality of life in the areas the rails travel while making it possible for visitors to travel freely between communities safely. (The Greater Austin-San Antonio Corridor Council), (http://www.lonestarrail.com/).