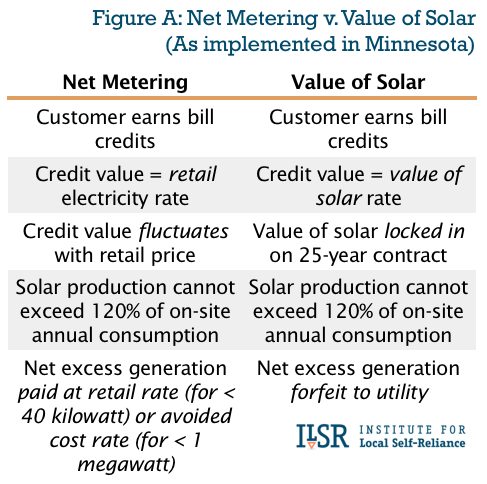 In March 2014, Minnesota became the first state to adopt a "value of solar" policy to set a fair, transparent price on solar energy. It may serve as a national precedent and fundamentally change the financial relationship between electric utilities and their energy-producing customers.
So what will value of solar mean for utility customers producing power with solar?
The Value Of Solar Concept
The basic concept behind value of solar is that utilities should pay a transparent and market-based price for solar energy. The value of solar energy is based on:
Avoiding the purchase of energy from other, polluting sources
Avoiding the need to build additional power plant capacity to meet peak energy needs
Providing energy for decades at a fixed price
Reducing wear and tear on the electric grid, including power lines, substations, and power plants
Value of solar is not like net metering, where producing energy reduces your electricity bill just like turning off a light. Fig. A illustrates the difference between net metering and value of solar in Minnesota. It also highlights a few key features of the adopted value of solar policy, including the 25-year contract, and the use of bill credits rather than a separate cash payment.
read complete article via The Method and Meaning of Minnesota's New Value of Solar Policy.
For more on the value of solar policy: