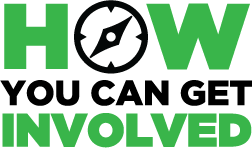 Sustainable San Antonio's goal is to bring together practitioners, researchers, policy makers, subject matter experts and the general public to share knowledge, tools and resources for a sustainable and more resilient society that builds prosperity and profitable returns on investment.
With your support we can rapidly build a community of like minded people with a purpose of facilitating the practices of sustainability. This action needs to be done now, if not now, when? And – If not us, who?
Sustainable San Antonio seeks new members to grow a network of 'Be the Change' thought leaders and advocates. Our success is entirely dependent on the support, collaboration and efforts of our Members. Below are a number of ways to get involved and advance your interests in having a Sustainable San Antonio.
Sponsor Sustainable San Antonio
Sustainable San Antonio is an all volunteer effort for members, and depends on the generous support of our Corporate and Community Sponsors. Please refer to this Sponsorship Guide and contact Steven Lane to identify a Sponsorship type that most benefits your organization.
Join Sustainable San Antonio
Membership in Sustainable San Antonio is a great way to connect with the local community and participate in Sustainable San Antonio's activities. To join, please complete the application by clicking this Membership Guide and email to us here.
Support Sustainable San Antonio
Consistent support of Sustainable San Antonio allows us to have continuous positive impacts in the community through improvements to human capital, our built environment and business ecosystem. There are a number of ways to support Sustainable San Antonio outside of Sponsorship or Membership. Please contact us to discuss opportunities to support Sustainable San Antonio's mission.
Donations are gratefully accepted and support our efforts to create a vibrant and effective Sustainable San Antonio. Please click here to make a payment or contact us for additional help or information.